I'm disappointed to say that I have read a bizarre and unrelated collection of books in the first half of 2015 and at 21 books read, am behind for  my goal of reading 50 books. With the summer ahead, I'm determined to get my numbers up again!
Why have I had trouble finding the time to read? In the past four months I've been to Vancouver, New York, Hamilton, St. John's, Washington, Rotterdam and Amsterdam. I also bought my first home (!) and lived in it while renovating, had my bachelorette weekend and my godson was baptized. So needless to say… it's been a challenge to find the time to read.
I've turned to some old favourites that I've been wanting to re-read for a while (hello, Guy Gavriel Kay!) and some new "guilty pleasure" books that I knew I would fly through (ahem,  Girl on the Train and  Invasion of the Tearling ). Some highlights from the first half of the year:
Tiny Beautiful Things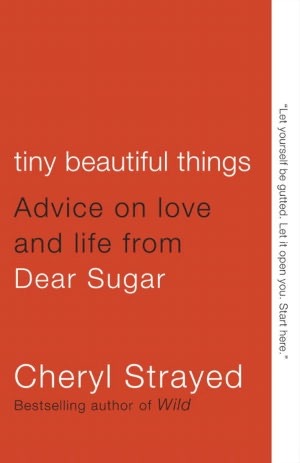 By Cheryl Strayed
Holy. I can't say enough about this incredible book. When I first read Wild, I wasn't crazy about it. I thought that Cheryl Strayed was an idiot junkie for heading out to hike the Pacific Crest Trail with no experience and I always find it a bit irksome when memoirs have detailed dialogue (especially when she wrote the book about 10 years after her hike). Tiny Beautiful Things, however, is something completely different. It's the collection of some of the most memorable letters sent in to an advice column, Dear Sugar, on the Rumpus. Dear Sugar for years was anonymous. Then, Cheryl Strayed came out as the writer behind the advice. The advice is brutally honest, gut-wrenching, and provocative. This is not your mother's advice column. I cried in this book, I laughed out loud in public, and I immediately recommended it to anyone who would listen. I would highly recommend this as a summer read – the short, stand-alone entries make it perfect to have around at the cottage.
Girl Runner
By Carrie Snyder
Devastatingly, I wrote a review of this book last month and when I went to publish the draft the next day, it had completely disappeared. I couldn't imagine redoing the entire thing so I sadly abandoned it. But! I really enjoyed this book. As a runner, it was a treat to have my two favourite things, Canlit and running, in one entertainment experience. The book chronicles the life of Aganetha, now in her 90s, who was one of the first women to run in the Olympics in the 1920s. This fictional story, based loosely on the real first Canadian women's Olympic running team, is a wonderful portrayal of what it was like for women in the 20s to not only be athletes, but even to have jobs at all. Laced with mystery, this book is a quick read and made me want to strap on my running shoes – Snyder is also a runner and has done a fabulous job of capturing the fleeting feeling of freedom, bliss and energy when running. (Which isn't always present in my runs, that's for sure.)
All the Light We Cannot See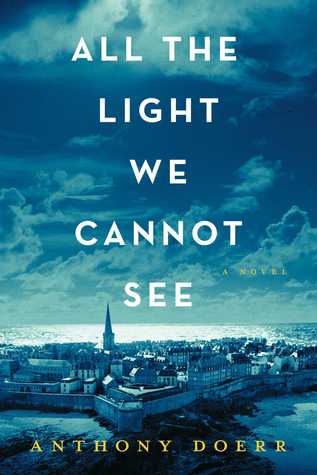 By Anthony Doerr
I love novels that take place around WWI or WWII and it Doerr tells a story like I haven't read before. Two parallel stories are told; Marie-Laure is blind and lives in France with her father, the master of locks at the Museum of Natural History. Young Werner is gifted at repairing radios which leads him to the Hilter Youth and then to be recruited into a special unit of the Nazis. When the Nazis occupy France, Marie-Laure and her father are separated and she must try to solve a mystery while living in a tall, old house with her mentally unstable uncle. Eventually, the two stories become one and nothing is trite or cliché; Doerr writes a touching, unique tale that had me spellbound.
The Mountain Story
By Lori Lansens
Right from the beginning of this book we know that there are four people stranded on a mountain and only three survivors. Needless to say this is another story that certainly kept the pages turning! I read Lori Lansens first book, The Girls, and had trouble reading about conjoined twins. This story, however, appealed to me much more, especially after living in Banff for a year. The plot is what clearly drives Lansens' books, which is perhaps why I had trouble getting through her first book. I would absolutely recommend this to have with you in the woods this summer.
My Summer Reading List
As for what I have planned to read this summer, there are a variety of books and depending on what becomes available from the library when (and whether I get any books for my birthday!) the list is likely to change.
1. Into the Blizzard by Michael Winter (currently reading)
2. The Astronaut Wives Club by Lily Koppel
3. Unbroken by Laura Hillenbrand
4. Natural Born Heroes by Christopher McDougall
5. No Great Mischief by Alistair MacLeod
6. Dear Life by Alice Munro
7. Our Endless Numbered Days by Claire Fuller (after reading this amazing review from Steph)
The remaining items on my list come from an interview on CBC Radio's Metro Morning with Globe and Mail Books Editor, Mark Medley, on his summer reads. These three sounded particularly fascinating and not the type of book I usually read:
8. The Deep by Nick Cutter
9. Day Four by Sarah Lotz
10. Fifteen Dogs by André Alexis
And for any of you looking for more to add to your summer reading list, be sure to check out Mark's full list of 20 books you must read during the second half of the year here.
What's on your TBR list this summer?